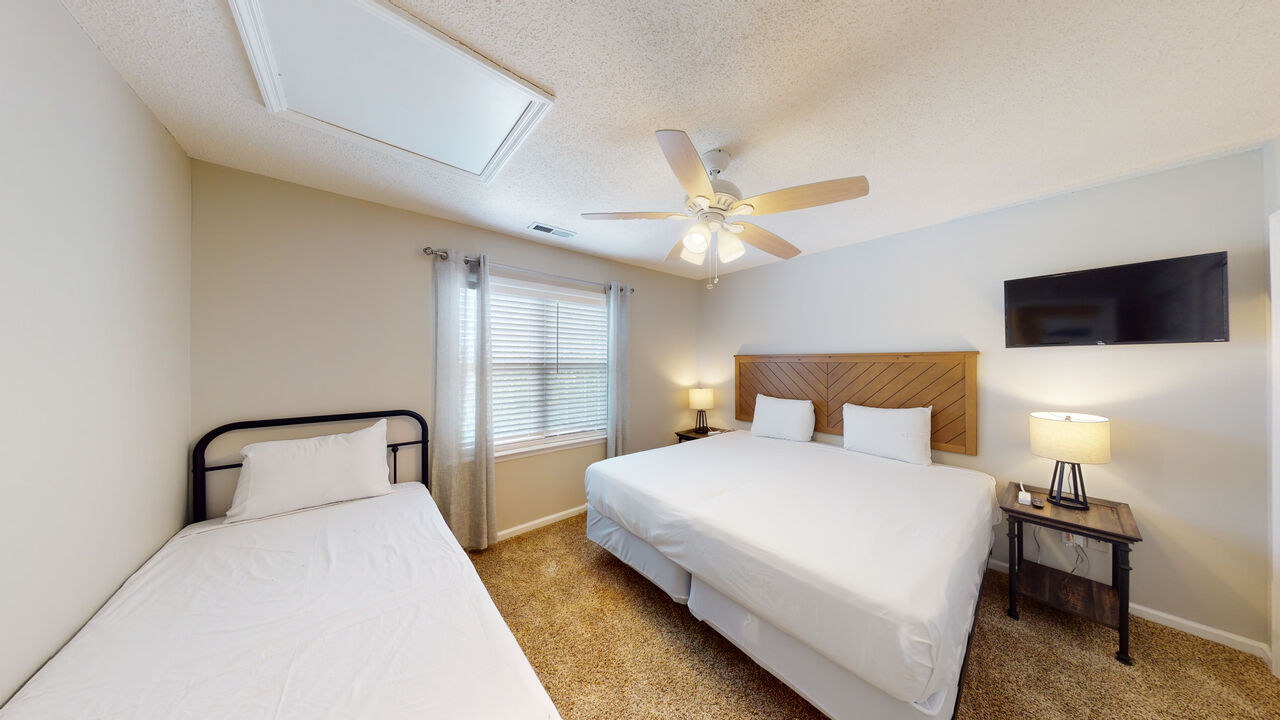 Description
NEWLY RENOVATED (as of January 2023) 3 Bedrooms and 2 Bathrooms, nestled in a
residential neighborhood in North Myrtle Beach. Four blocks from beach, walking distance
to IGA grocery store, hardware store and restaurants. Just a short drive to Main Street,
where there are tons of restaurants, shopping, golf courses and more. It is also a short
drive to Cherry Grove Pier, and many other attractions in the area.
Home Features:
 3 Bedrooms / 2 Bathrooms (sleeps up to 9)
 1535 square foot Beach House
 Two-floor villa (no elevator)
 1st Floor - Living room, Dining Room, Kitchen, 1 Bedroom with ensuite Bathroom and Laundry
 2nd Floor - 2 bedrooms, 1 bathroom
 Linens and cleaning included. Your beds are pre-made for you.
 1 Big Screen TV and all bedrooms have a T.V. (for your streaming services ONLY, no cable)
 WI-FI access
 Stainless steel appliances
 New furniture and mattresses
First Floor:
Living Room: Spacious and comfortable seating, TV (for your streaming services; no cable)
Dining Room: 6-seater dining table
Kitchen: Fully stocked kitchen pots, pans, utensils, and small kitchen appliances (coffee machine, toaster oven, waffle maker, blender, electric griddle)
Bedroom #1: 1 Swing King OR 2 Twin XLs + 1 Twin XL, private bathroom with washer dryer, walk-in closet
Second Floor:
Bedroom #2: 1 Swing King OR 2 Twin XLs + 1 Twin XL, 2 built-in closets
Bedroom #3: 1 Queen + 1 Twin XL, 1 built-in closet
Bathroom: Full bathroom with hallway access (includes bath with standing shower and tub)
Outdoor Spaces:
First floor deck: Bench seating, rocking chairs and side tables and shades, to enjoy the great beach weather
Under the house: Propane BBQ, picnic bench and Adirondack chairs for meals outdoors
What does The Tranquil Sails offer You?
Four blocks to the beach (public access at the end of the street)
Fully stocked kitchen pots, pans, utensils and small kitchen appliances (coffee machine, toaster, waffle maker)
Stay together with the entire family, golf buddies or business team
Parking for about 6 cars depending on the size, in your own driveway
Please note, this unit does NOT have cable. ONLY Wi-Fi - You will have to use streaming services if you wish to watch anything on the TVs.
** Check In time is between 4 PM and 6 PM. We make every attempt to have your
property available at 4 PM on arrival day, but circumstances occur where check in time
may be later. We do not guarantee a 4 PM check in time.
No Pets Allowed
No Smoking inside of unit, there is a $500.00 deep cleaning fee for any units smoked in.
No Groups under age 25
No house parties
Motorcycles Allowed
No Trailers can park on site
Cancellation and Refund Policy: Cancellation and Refund Policy: A sixty (60) day written email notice sent to customersupport@mbvacationhomerentals.com is required for all cancellations. We do not accept verbal cancellations. The request must be in writing. ALL cancellations will be subject to a $150 cancellation fee. If the written cancellation request is received more than thirty (30) days prior to the scheduled arrival date AND ALP is able to re-rent the Unit for the same amount of money, all monies paid will be returned EXCEPT (LESS) the $150 dollar cancellation fee, Security Waiver, and the booking fee. Once you cancel your reservation the property will be available for rentals. ALP reserves the right to discount the nightly rate to re-rent the property. If the property is re-rented for a lesser rate all monies will be returned EXCEPT (LESS) the $150 dollar cancellation fee, Security Waiver, booking fee, and difference in rental price. Cancellation requests or changes to a reservation made within 30 days of scheduled arrival will forfeit all monies paid. ALP strongly suggests purchasing travel insurance
When making a reservation, you must be 25 to rent with us. We do not rent to locals.
Airbnb guests must sign an Affordable Large Properties rental agreement and also submit a copy of their Drivers License to Affordable Large Properties. Also, the renter must be 25 years of age or older. Affordable Large Properties will cancel the reservation if you are under the age of 25 and or a local.
Availability
Availability
Virtual Tour
Room Details
| Room | Beds | Baths | Comments |
| --- | --- | --- | --- |
| Bedroom 1 | | Private Bathroom - Bedroom 1 | Swing King (King or Two Twins) Twin |
| Bedroom 2 | | | Swing King (King or Two Twins) Twin |
| Bedroom 3 | | | Queen Twin |
---